If you need some help, we've got your back! Contact us today at 440-941-5377 or drop us a message, and our team will be sure to get back to you soon. There is no need to feel anxious or overwhelmed because we are here to offer assistance.
Never hesitate to call our number; it's your first step toward being cared for. Don't let your stressful situation become more complex — communicate with one of our representatives immediately, and we guarantee you'll receive quick and friendly assistance.
Move My Mess.com Junk Removal
Professional Junk Removal Company in Ohio
Getting rid of trash is our business! Move My Mess is a company concerned with addressing the impact of compulsive consumption, which has severe social and environmental consequences.
That's why, every day, we provide homeowners and businesses in Ohio with the resources they need to tackle their most challenging junk removal projects while leaving a positive impact on the environment. We donate as many of the items we remove as possible, and those that don't qualify but are still usable are taken to recycling centers.
Get a free estimate and remove what you no longer want or need! Call us today to schedule an appointment with one of our junk removal professionals.
Move My Mess.com Junk Removal
Our job starts the moment you contact us. We will give you an estimate of the price of the service. You will receive confirmation in your email if you agree with the value.
On the day of your pick-up, we will contact you 1 hour in advance to confirm that we are on our way.
Upon arrival, we will ask you to show us the junk, and we will immediately start working. Our team is trained and uniform, so you can be confident that you are leaving your debris in the hands of the best professionals.
We want to help you take care of the environment. Move My Mess will try to find recycling alternatives for all the waste you generate.
Why Is Move My Mess Your Best Option?
Move My Mess.com Junk Removal
Our Eco-Friendly Practices
Move My Mess is aware of our consumption habits and the impact we have on the environment. That's why we are committed to sustainable practices to reduce our ecological footprint, such as recycling which helps to protect our planet and keep landfills free of junk.
Most household items such as appliances, old furniture, metal, or plastic can be recycled, which also helps prevent global warming. So, make your life easier. When you hire Move My Mess, you can be sure that your junk will be recycled or donated.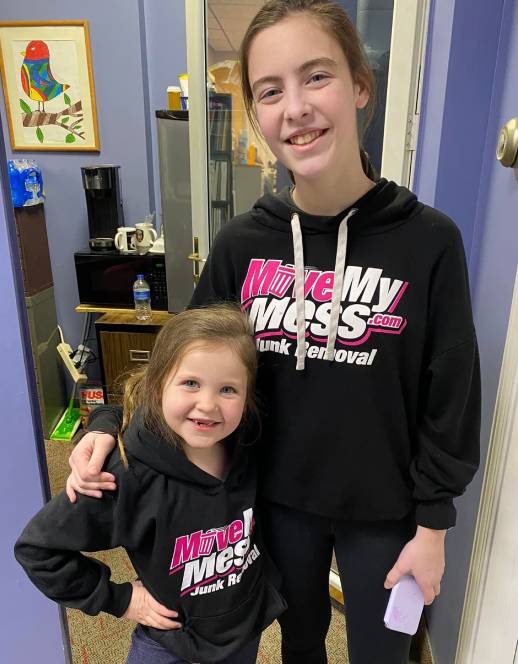 Our team is always willing, motivated, and energized to do all the heavy lifting for you.
We value our clients' time. Therefore, we pay special attention to punctuality, arriving on time, and finishing the job on schedule.
In addition, our customers speak of our reliability and professionalism in removing homes and businesses.
Frequently Asked Questions
Except in exceptional cases, we only take a single day for several hours. 
Your presence is unnecessary, but you can stay and watch us work if you wish. For example, you can see the objects we are sorting and removing.
Of course, it is common to hire removing junk in addition to the cleanout, especially when you want to make a complete or total renovation of the house.
We take them to a waste management plant. We also consider donating them to different charities.
You may request a free estimate by filling out the contact form, which contains questions about the location and condition of the property and the specific number of objects to be removed. We will then send you an estimate by email. If you agree, we will arrange a date and time to complete the work.
Move My Mess is here to make life easier, so you can get the most out of your belongings. Let our experienced team help with emptying and collecting junk and furniture.